Community Governance Review Wolverley and Cookley
Wolverley and Cookley Community Governance arrangements following the Local Advisory Poll on 25 July 2018
On Wednesday 18 April 2018, Wolverley and Cookley Parish Council presented a petition to the district council, bearing 301 signatures, requesting that we undertake a Community Governance Review (CGR)
The petition requests the council to undertake a CGR with a view to dissolving the current Parish Council and forming a new Parish Council for Cookley and a new Parish Council for Wolverley.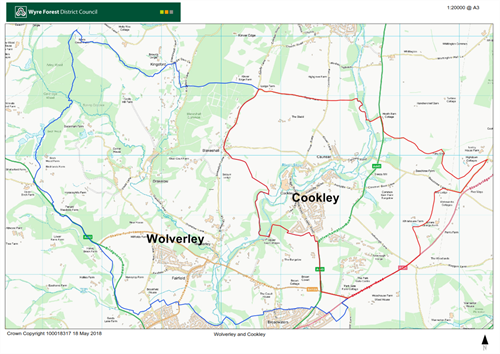 The Community Governance Review commenced with the publication of the Terms of Reference on Wednesday 24 May 2018.
The introductory stage of the CGR included consultation with stakeholders. Consultation closed Friday 13 July 2018.
Local Advisory Poll
Anyone who is registered to vote and lives in the parish was able to vote in the Local Advisory Poll. This took place on Thursday 12 July between 8am and 8pm. Voters were asked "Should the villages of Wolverley and Cookley each have their own Parish Council?"
Timetable
This timetable assumes that the initial submission and advisory poll support the split of Wolverley and Cookley Parish and the creation of two separate parish councils.
| Action | Dates |
| --- | --- |
| Report to Council to approve the Terms of Reference | 23 May 2018 |
| | 24 May 2018 |
| Introductory Stage – 7 week consultation | 24 May – 13 July 2018 |
| Local advisory poll | 12 July 2018 |
| Report to Council | 25 July 2018 |
Verdict
Wolverley and Cookley Community Governance arrangements following the Local Advisory Poll on 25 July 2018