Knowing our workforce 1 April 2019 - 31 March 2020
The following data was complied by Wyre Forest District Council Human Resources Department April 2020.
Introduction
We are required to monitor and publish the characteristics of our workforce as outlined in the Equality Act 2010, for public bodies to publish annual equalities information about their employees.
This report covers the period 1 April 2019 – 31 March 2020 and includes data on gender, age, disability and ethnicity of our workforce. It provides an analysis of employees who have left the Council during the last year and examines the characteristics of employees who have been involved in disciplinary action or grievances. The report concludes with an analysis of applicants who have progressed through our recruitment and selection processes.
Workforce profile (as at 31 March 2020)
We employ 339 staff, 231 are full time and 108 are part time.
177 staff are female and 162 are male.
Four staff have declared a disability. The data suggests that our workforce comprises of a lower proportion of people with a disability than the population as a whole. It is difficult to assess how well it reflects the population as our own information relies on staff declaring that they have a disability.
As Table 1 shows, the majority of our workforce (82%) is of White British ethnicity. The ethnic mix of our workforce reflects that of the wider Wyre Forest population.
Table 1: Ethnicity of Wyre Forest Staff

| Ethnic Origin | Number of staff | Percentage |
| --- | --- | --- |
| Indian | 1 | 0.30% |
| Any other ethnic group | 2 | 0.59% |
| White British | 272 | 80.23% |
| White Irish | 1 | 0.30% |
| White Other | 4 | 1.18% |
| Not declared | 59 | 17.40% |
Profile of leavers
During the period a total of 30 employees left the council. 26 of the employees were of White British ethnic origin, one employee was of Bangladeshi origin and 3 employees had not declared their ethnic origin. Resignation accounted for 72% of leavers, whilst 17% of leavers retired, 7% were made redundant and 3% were dismissed.
Reasons for leaving
Table 1 shows percentage of leavers and their reasons for leaving

| Reason for leaving | Percentage of leavers |
| --- | --- |
| Redundancy | 7% |
| Retired | 17% |
| Dismissal | 3% |
| Resignation | 73% |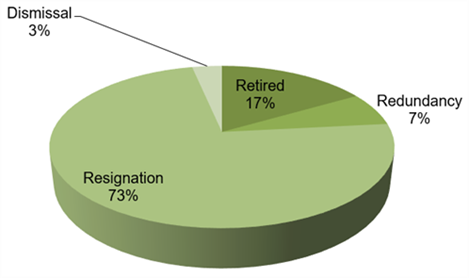 Disciplinary action and grievances
During the period we took disciplinary action against three employees, all of the employees involved were male. Two were White British and one not declared. Five individual grievances were submitted; three were White British males and two were White British females.
Recruitment and selection
During the period, 349 people (both internal and external) applied for jobs with us over 38 recruitment campaigns.
The recruitment campaigns were:
Arborist level 5
Assistant Planning Enforcement Officer x 2
Business Support Officer
Casual Museum/TIC Assistant
Civil Enforcement Officer x 2
Community and Environmental Protection Officer x 2
Development Management Officer
Economic Development and Regeneration Assistant
Environmental Operative Level 3 - Mechanical Sweeper
Environmental Team Leader
Facilities Assistant
Homeless Support Worker x 3
Housing Advice Assistant
Housing Services Officer
HR Business Support Assistant
Museum Assistant
Museum/TIC Co-ordinator
North Worcestershire Civil Contingencies and Resilience Manager
Parks and Open Spaces Operative - Level 2
Part Time Receptionist
Planning Policy Assistant
Private Rented Project Officer
Private Rented Sector Leasing Coordinator
Private Sector Housing Technical Support Officer
Rough Sleeper Co-ordinator
Senior Development Management Officer
Summer Activity Leaders
Summer Ranger
Technical Support Engineer
Trainee Revenues Officer
Waste Operative - Driver Loader
Waste Operative - Loader
Water Management Officer
The following is a breakdown of data regarding the applicants at the various stages of the interview process.
Gender
Gender data of job applicants

| Gender | Applications received (total 348) | Invited to interview (total 122) | Offer employment made (total 29) |
| --- | --- | --- | --- |
| Male | 142 (40.80%) | 60 (4.18%) | 19 (65.52%) |
| Female | 198 (56.90%) | 60 (49.18%) | 10 (34.48%) |
| Prefer not to say | 8 (2.30%) | 2 (1.64%) | 0 (0%) |
Disability
Disability data of job applicants

| Disability | Applications received (total 348) | Invited to interview (total 122) | Offer employment made (total 29) |
| --- | --- | --- | --- |
| Yes | 15 (4.31%) | 8 (6.56%) | 1 (3.45%) |
| No | 329 (94.54%) | 113 (92.62%) | 28 (96.55%) |
| Prefer not to say | 4 (1.15%) | 1 (0.82%) | 0 (0%) |
Ethnic origin
Ethnic origin of job applicants and those we interviewed

| Ethnic Origin | Applications received (total 348) | Invited to interview (total 122) | Offer of employment made (percentage) |
| --- | --- | --- | --- |
| Asian or Asian British - Indian | 4 (1.15%) | 2 (1.64%) | 0 (0%) |
| Asian or Asian British - Other | 171 (0.29%) | 0 (0%) | 0 (0%) |
| Asian or Asian British - Pakistani | 3 (086%) | 2 (1.64%) | 0 (0%) |
| Black or Black British - African | 7 (2.01%) | 0 (0%) | 0 (0%) |
| Black or Black British - Caribbean | 3 (0.86%) | 1 (0.82%) | 0 (0%) |
| Black or Black British - Other | 1 (0.29%) | 1 (0.82%) | 0 (0%) |
| Mixed ethnic - White and Asian | 2 (0.57%) | 0 (0%) | 0 (0%) |
| Mixed ethnic - White and Black Caribbean | 2 (0.57%) | 1 (0.82%) | 0 (0%) |
| Mixed ethnic - other | 1 (0.29%) | 1 (0.82%) | 0 (0%) |
| Other ethnic group - Arab | 1 (0.29%) | 0 (0%) | 0 (0%) |
| Prefer not to say | 7 (2.01%) | 0 (0%) | 0 (0%) |
| White - other | 17 (4.89%) | 4 (3.28%) | 1 (3.4%) |
| White - Welsh/English/Scottish/Northern Ireland | 283 (81.3%) | 104 (85.25%) | 28 (96.55%) |
| No selection made | 16 (4.60%) | 6 (4.92%) | 0% |