Flytipping is the illegal dumping of rubbish or bulky items.
It's unsightly, pollutes land and waterways and can be dangerous to the public.
If your waste is flytipped, by you or by someone else on your behalf, you could face a £400 fixed penalty notice or an unlimited fine.
Flytipping of controlled waste such as household, industrial and commercial waste is a serious criminal offence that carries a fine of up to £50,000 or prison sentence of up to 5 years.
We work in partnership with the Environment Agency, the Community Housing Group and West Mercia Constabulary to tackle flytipping. We are responsible for clearing flytipping and dumped waste on public land and we will investigate to see if the offender can be identified and prosecuted.
Leaving items beside street bins and recycling banks, on the floor of communal bin areas, or outside closed recycling centres and charity shops are all flytipping.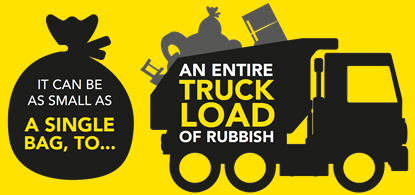 How you can dispose of waste legally and prevent flytipping
Everyone has a legal 'duty of care' to ensure your household or business waste is disposed of correctly. If you need to dispose of household waste, it's important to know you have responsibility for making sure it's done so legally. Whether you hire a company or a 'man with a van' to take away your waste, you must make sure whoever collects your rubbish disposes of it responsibly and legally.
You can be prosecuted even if your waste is flytipped by someone else on your behalf, if you cannot prove you took the necessary steps before paying for its disposal.
If it's your waste, it's your responsibility!!
Always use a registered waste carrier to collect your rubbish. You can find a registered waste carrier in your area on the Environment Agency's website. Remember, if you are a waste carrier, broker, or dealer to register or renew your waste carrier licence, as you can be fined up to £5,000 if you do not register.
Always follow the S.C.R.A.P. code if you're having household or garden waste removed to make sure your waste does not end up dumped by the roadside or at a local beauty spot. You may be held responsible if you don't follow some simple steps to make sure it is being disposed of properly.
S - suspect all waste carriers. Don't let them take your rubbish until they provide proof of registration. Note their vehicle's registration plate.
C - check that a waste carrier is registered on the Environment Agency's website.
R - refuse any unexpected offers to have your rubbish taken away.
A - ask how your rubbish will be disposed of - seek evidence of this.
P - paperwork must be obtained: a proper invoice, waste transfer note or receipt, including a description of the waste being removed and the waste carrier's contact details.
What do I do if I see someone flytipping or discover flytipped waste
Do not put yourself at risk or confront the perpetrator(s). If you see flytipping in progress keep yourself safe by staying out of the way.
Do not touch flytipped waste it may contain dangerous items such as; syringes, asbestos or other hazardous substances.
Do not disturb the site as there may be evidence that could help identify the culprits and lead to their prosecution.
Do report it to us online via our My Wyre Forest portal. When you create an account this will allow you to track the progress of your report. When reporting the incident please include as many details as possible such as, exact location, date and time, details and photos of the items. If you witnessed the flytipping please include the vehicle's registration number, a description of the vehicle, and a description of the flytipper(s) and their direction of travel.
What you can do with your household waste
Use your kerbside bin collection
Visit our what goes in which bin page to find out what you can put in your bins. Or do you have too much for the bin and need help.
Use our bulky waste collection service
We offer a bulky waste service for the collection of large domestic items such as household furniture, electrical items and white goods.
Recycling banks and household recycling centres
Find out when your nearest recycling centre is open, what you can take there and how to get a permit to bring a van or trailer.
Sell or donate your unwanted items
Use social media groups on Facebook or websites like eBay, Gumtree and Freecycle. Only donate items to charity shops when they're open.
Are you disposing of your business waste correctly?
Every business that produces waste in the UK has a legal 'duty of care' to:
manage it properly until it's recycled or disposed of
declare the correct classification of your waste
always use a registered waste carrier or register to carry your own waste
keep the correct paperwork for at least two years.
A lack of understanding will not protect you in court.
Together we can SCRAP flytipping