Wear a ribbon: speak out against domestic abuse
News release issued:
North Worcestershire Community Safety Partnership (NWCSP) is speaking out against domestic abuse once again, as part of a worldwide campaign.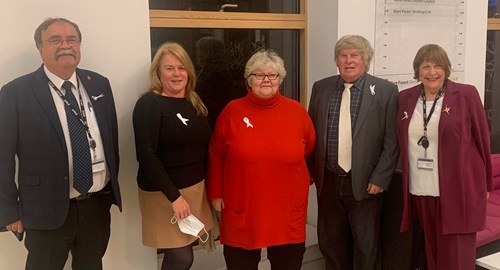 International White Ribbon Day is on Thursday 25 November and this year their campaign is #AllMenCan. 
The campaign was developed in March when the murder of Sarah Everard brought women's experience of men's violence to the forefront of everyone's minds. It also opened up many conversations about men taking action and making a stand which is what campaigners hope to encourage as we enter a new year.
Drawing inspiration from the international White Ribbon Campaign and its '16 Days of Action', the local NWCSP campaigns aim to increase recognition of domestic abuse and encourage and support all people affected by it to seek the support that's available, regardless of gender.
As a member of the NWCSP, Wyre Forest District Council is once again making a commitment, on behalf of the communities and organisations it serves, to never accept domestic abuse in any form and irrespective of gender.
Councillor Graham Ballinger, Deputy Leader of the Council and Cabinet Member for Culture, Leisure and Community Safety said: "We all have a responsibility to do all we can to rid society of domestic violence and abuse and must do everything we can to raise awareness of its impact and the help that is available."
For a 24 hour domestic abuse helpline call 0800 980 3331 (For women), 0800 014 9082 (For men) or visit NHS Live Well website for more support information.
The White Ribbon Campaign is an international movement encouraging man to speak out against violence toward women and girls. The 16 Days of Action is held to raise awareness of the reality of domestic violence and push for positive change that makes people safer.  The 16 Days run between two special days designated by the United Nations: Thursday 25 November, International Day for the Elimination of Violence against Women (and White Ribbon Day), and Friday 10 December which is UN Human Rights Day.
More details about the White Ribbon and 16 days of action campaign are available here: https://www.whiteribbon.org.uk/
Picture shows Wyre Forest District Council's Cabinet members. From left to right; Councillor John Thomas, Cabinet Member for Operational Services, Councillor Nicky Martin, Cabinet Member for Housing, Health, Wellbeing and Democratic Services, Councillor Helen Dyke, Leader of the Council and Cabinet Member for Economic Regeneration, Planning and Localism, Councillor Graham Ballinger, Deputy Leader of the Council and Cabinet Member for Culture, Leisure and Community Safety, Councillor Mary Rayner, Cabinet Member for Finance and Capital Portfolio.