We understand many people want to offer some support to the people of Ukraine. We have tried to pull together some information on ways you can help.
Visit the information for residents concerned about the situation in Ukraine web page from Worcestershire County Council for more information and advice.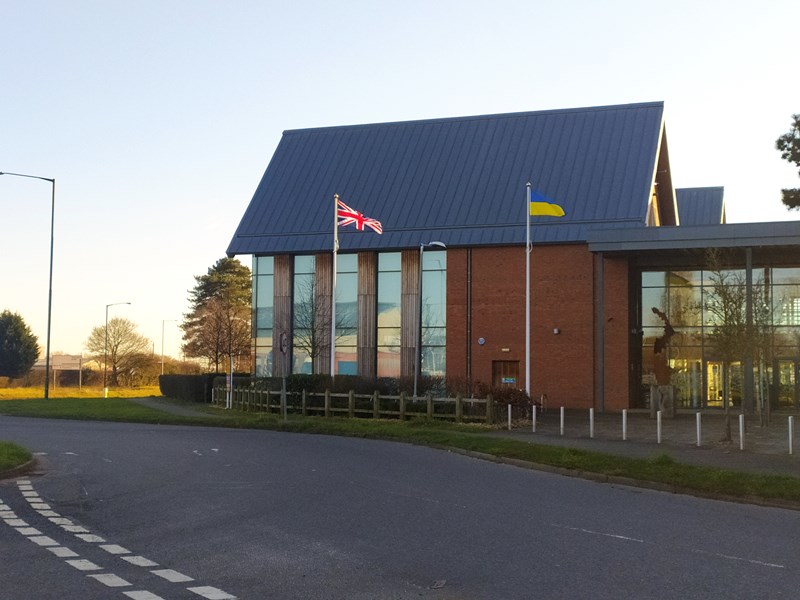 Help for Sponsors and Guests
Please contact us on Homesforukraine@wyreforestdc.gov.uk once your guest arrives and we will arrange a visit to pay the guest £200.
The host payments will commence when the following five checks have all been completed and information uploaded onto the national database;
The accommodation exists and can be used as residential accommodation
Accommodation visited and it appears suitable for the proposed guests
Disclosure and Barring Service (DBS) checks have been initiated
The guest(s) has/have arrived in the accommodation (confirmed by the council)
The safeguarding checks have been completed including visiting the guests in their accommodation and can confirm there are no serious concerns
There are various banks offering basic bank accounts to guests including the HSBC and Lloyds TSB. Requirements will vary but HSBC have advised us Guests should be able to set up bank accounts with the following information (please note other banks may require something different);
Identification documents :
Passport  / Driving Licence / Biometric Residence Permit – Basic Bank Account only
If the settlor is unable to provide a standard ID document, a biometric Ukrainian National ID card or a Biometric Ukrainian driving licence can be used for Basic Bank Accounts only.
Letters from a person in a position of responsibility from local council confirming a UK address and must include:
Applicants name
Applicants address
Name, Signature, address and telephone number of the person of responsibility for verification purposes. Date of issue (within the last four months).
If you are sponsoring a Ukrainian Guest or you are a Ukrainian Guest and you need help getting food, medical supplies and other needs then please contact the Worcestershire Here 2 Help service.
If you cannot complete the online form then please call 01905 768053 then press option 3. The Here 2 Help service is open Monday to Thursday 9am to 5pm and Friday 9am to 4.30pm.
Tuesday 31 May 2022 9.30 - 16.30
ID checks only
A new Ukraine Connections service has recently been introduced in Worcestershire Libraries to help Ukraine guests to settle across the county by providing regular opportunities to connect with other guests and host families and benefit from a wide range of free activities and resources in their local library:
Loan of free books for education and pleasure, including new Ukrainian language books
Information to help guests settle in the UK
Free public computers and WiFi
Printing and photocopying facilities
Free activities for children of all ages
Free access to Job Clubs
Free access to digital newspapers and magazines in other languages
Free access to eBooks and eAudio books in other languages (via an app)
Host families are encouraged to bring their Ukrainian guests to their local library to see for themselves how public libraries in the UK can provide a safe, welcoming and social space for them as they adapt to their new environment.
Ukraine Connections sessions are running in Worcestershire libraries including:
Kidderminster Library
Connect café – Last Friday of the month, 9.30am-11.30am
Visit your local library for details on Ukraine Connections in your area or follow their Facebook page for updates.
Financial donations for humanitarian aid
An appeal has been launched by the UK's Disasters Emergency Committee to help the hundreds of thousands of Ukrainians fleeing conflict.
Wyre Forest District Council is encouraging residents who wish to make financial donations to support the appeal.
Fifteen leading UK aid agencies - including the British Red Cross, Oxfam and Save the Children - are working together to help people who have fled Ukraine, but also those who have been displaced to other parts of the country.
All public donations will be doubled by the UK government, up to a total of £20m.
Vice-Chairman of the Council, Councillor Peter Dyke said: "We have all been shocked by the unjustified Russian invasion of Ukraine, a free and democratic country. To show solidarity with the people of Ukraine, we will be flying the Ukrainian flag at our Wyre Forest House headquarters.
"Many local people want to show their support for Ukraine in practical ways. If you want to make a financial donation for humanitarian aid, I encourage you to donate to the DEC Appeal. If you are a UK taxpayer, you can also claim gift aid and the Government will add 25% to your donation. It's easy to donate online by visiting the DEC website.
If you wish to donate to another charity then please be careful about who you give your money to. Fraudsters are trying to take advantage of people's generosity towards the people of Ukraine. The Government advises you to do the following before donating money:
Make sure the charity is genuine before giving any financial information.
Be careful when responding to emails or clicking on links within them.
Contact or find out more online about the charity that you're seeking to donate to or work with to understand how they are spending their funds.
Look out for the Fundraising Badge on charity fundraising materials, this is the logo which shows that a charity has committed to fundraise in line with the Code of Fundraising Practice.
Offers of help (other than accommodation)

Individuals, businesses or other organisations who wish to offer help (other than accommodation) can contact Here2Help website or call 01905 768053.
Barnardo's free helpline to support Ukrainian families
Barnardo's has set up the Ukrainian Support Helpline to provide a holistic support service. The helpline is available to anyone fleeing the conflict in Ukraine.
Barnardo's free helpline (0800 148 8586) is staffed by English, Ukrainian and Russian speakers, to offer support to children and families arriving in the UK from Ukraine.
The helpline is open Monday – Friday (10:00am – 8:00pm) and Saturday (10:00am – 3:00pm). Callers will be able to get help and advice on a range of topics.
A dedicated email address ukrainiansupport@barnardos.org.uk and webpage have also been set up for those assisting with the Ukraine response.
More information can be found on the Barnardo's Ukrainian Support Helpline web page.