No Barriers The Mike Oborski Awards
Nominations are now closed
What are the 'No Barriers' Awards?
The aim of 'No Barriers' the Mike Oborski Awards is to recognise local businesses, organisations and individuals that have provided significant access, service or employment possibilities for people with disabilities within the Wyre Forest district.
The awards also want to celebrate those who have given particular consideration for the wider needs of people within the community, for example, nursing mothers. Applications are invited for those who go the extra mile for people when it's not part of their usual role.
We hope that by celebrating these achievements it will promote best practice and encourage others to do the same.
The 'No Barriers' Awards Panel
The Award Panel considers the following factors:
Customer-friendliness
Accessibility
Employment Opportunities
If you have any enquiries about the 'No Barriers' the Mike Oborski Awards please contact us.
Who was Mike Oborski?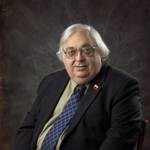 The Mike Oborski 'No Barriers' Awards have been set up in the memory of Councillor Mike Oborski, who initiated this project.

Mike was Polish Honorary Consul for the West Midlands. The idea for the awards came from a similar scheme that runs in Gdynia, Poland. We are very grateful to the Mayor of Gdynia for kindly allowing us to use the Gdynia 'Bez Barier' logo.