All aboard as new pirate ship sets sail!
News release issued:
Young pirates can jump aboard and take to the stormy seas by visiting Stourport's new pirate ship play attraction.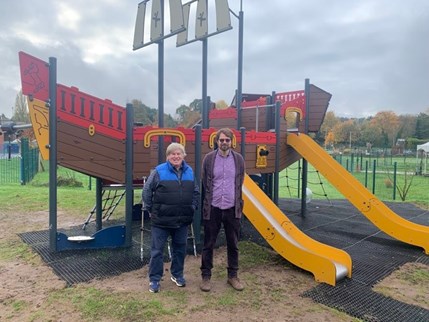 The ship opened its hatches alongside a new adventure trail on Monday 8 November at Riverside Meadows park in Stourport-on-Severn.
Wyre Forest District Council commissioned specialist play company, Kompan, to complete the work. It is part of a series of ongoing improvements being made at the riverside as part of the Stourport Riverside Masterplan project.
Councillor Graham Ballinger, Deputy Leader of the Council and Cabinet Member for Culture, Leisure and Community Safety said: "I'm delighted the pirate ship and adventure trail are now open for children to enjoy. I'm sure they will be great places for youngsters to come and let their imaginations run wild.
"We are really proud of the work we have achieved at Stourport Riverside and we will continue to develop the area as set out in our masterplan."
Picture shows Councillor Graham Ballinger on the left and Wyre Forest District Council's Grounds and Arboricultural Services Officer, Olly Price on the right.